Well for my first post I guess I should write about the wonderful vacations we just took. We left on a Friday afternoon and headed to Orange Beach, AL with our two kids, Noah's parents, and of course us in tow! Needless to say our minivan was packed to the brim with 6 people and their luggage! We really had a wonderful time. The view from our 15th floor condo was just amazing.
Elijah
loved
the water and Kirsten
loved
the sand! Here are a few pics of them playing around!
Noah and I went parasailing (despite all of Noah's attempts to talk me out of it!). We took a dolphin cruise, but didnt see any dolphins because our boat's engine was messed up so we had to head back to the dock but the boat ride was really relaxing. Here are some pictures from the dolphin cruise.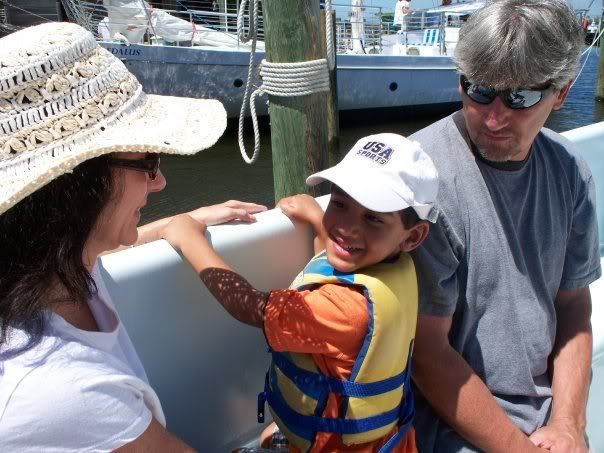 MiMi, Pawpaw and Elijah ready for the boat to leave the dock.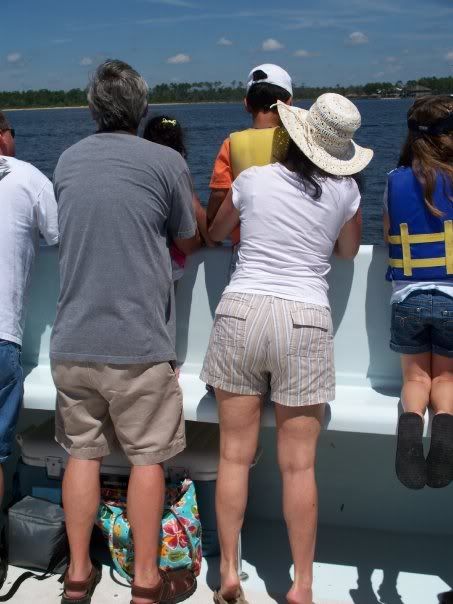 MiMi, Pawpaw, Elijah and Kirsten looking for dolphins on the tour.
My wonderful fiance and I relaxing on the boat.
On our last night there Noah and I went to a pier and watched the sun set. It was very beautiful.
Our trip really turned out wonderful. We all loved being together as a family and relaxing.
Six Flags
After our wonderful beach vacation, Noah and I took my baby (sorry little) brother Christian and his friend Jacob to Six Flags for Christian's 13th Birthday. We stopped and ate at Lambert's Home of the Throwed Rolls. If you have not ever eaten at a Lambert's I suggest you do so sometime in your life! It is really good food and fun!
We tromped around Six Flags on Friday and then Saturday went to Hurricane Harbor, the water park inside of Six Flags. It was a great time!
We took Christian to a mexican restaurant for his birthday and they put a big sombrero on him and made him hold a guitar while they sang Happy Birthday to him! Much fun was had!
Sorry, but I am blogging at work and dont have any of this trip's pictures on this computer. I will will post them later!
Needless to say, after 10 days of non-stop traveling we were worn out and ready to get home!