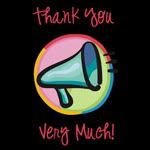 It is Thursday and that means FREE Therapy day over at
Kmama's
. Head on over there for some fun therapy!
-To my attorney I transcribe for everyday, I have told you repeatedly that I can NOT hear the first few seconds of the tapes when you are talking and therefore causing me to leave them blank. Thank you VERY much!
-To all my pre-pregnancy clothes that fit 2 weeks ago but not this week, causing me to wash clothes wayyy more often than I want...Thank you VERY much!
-To my clients who think that just because you cover yourself head to toe in perfume and/or cologne to cover the smell of the cigarette and/or other things you may be smoking which in turn causes this pregnant woman to be extremely nauseous and then get a headache that lasts all day...Thank you VERY much!
-To the soliciters that call our office but can't speak a lick of English causing me to hang up on you..Thank you VERY much!
Whew that feels better...Need some FREE Therapy? Go check out
Kmama's
blog and join in!