I had my first prenatal visit yesterday with my OB/GYN. I was so nervous before going in there. I felt like vomiting the whole time, luckily I didn't.
They drew blood, took blood pressure, I got the H1N1 shot and the regular flu shot, peed in a cup and got an exam.
I loved every bit of it because I knew in just a few short minutes I would be getting to see my baby for the first time.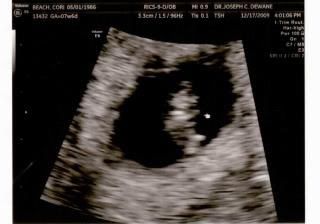 I am 6 weeks 6 days today. I am due on August 7th. I am so excited!!
We got to hear the baby's heartbeat at 127 beats per minute. It was amazing. I loved it. I am so much more laid back now that I know everything is ok!