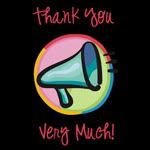 It has been a while since I linked up with Kmama over at The Daily Dribbles for her Thank You Very Much Thursday but today seemed like a good day to do it..so here is my Thank You's-Pregnancy Version!
-To my awful pregnancy hormones, I do not enjoy crying about everything I see on TV or in person. I really honestly do not find that Progressive commercial to be sad in any way, so Thank You Very Much!
-To the braxton hicks contractions that have been plaguing me every 45 minutes for 2 days now and therefore causing me to not have much sleep...Thank You Very Much!
-To the heartburn that causes me much uncomfortableness...Thank You Very Much!
*On a side note-I am thankful that I am pregnant and that God has allowed me to have this special time with my daughter..but I do not like the other things that come with it :)